Helping Canadians achieve their financial goals through unbiased expert insights
At Eckler, we believe that people and businesses everywhere deserve to secure and safeguard their future. While a good retirement plan is a key component, we believe in a broader vision and a more holistic approach.
With Guided Outcomes™, employees get the tools and insights they need to set, plan and achieve their financial goals. Employers get the analytics they need to make strategic decisions that support employee financial health and achieve organizational objectives.
Guided Outcomes™ journey for plan members
Financial wellness curriculum
Our Guided Outcomes™ curriculum is a modular, multi-channel solution of expertly selected tools and insights (workshops, webinars, articles, videos, workbooks, on-line learning, individual financial coaching, plan sponsor program analytics and reporting) to help employees set, plan, and achieve their financial goals.
Employers can choose from packaged "off-the-shelf" solutions as well as a-la-carte or fully customized solutions to meet their objectives.
Personalized retirement statements
The number one question Canadians have about retirement is "how much do I need?". They struggle to figure out how much to save so they can continue their current lifestyle in retirement.
Based on Dr. Bonnie-Jeanne MacDonald's research on Canadians' retirement income security,
Guided Outcomes™ personalized member statements provide each member with their unique
Living Standard Replacement Rate to measure their ability to maintain their personal living standard in retirement.  With their personalized statement in-hand, members have the information they need to make informed decisions on how to achieve their retirement goals.
Watch the short video below to learn more about the Living Standard Replacement Rate.
Guided Outcomes™ for employers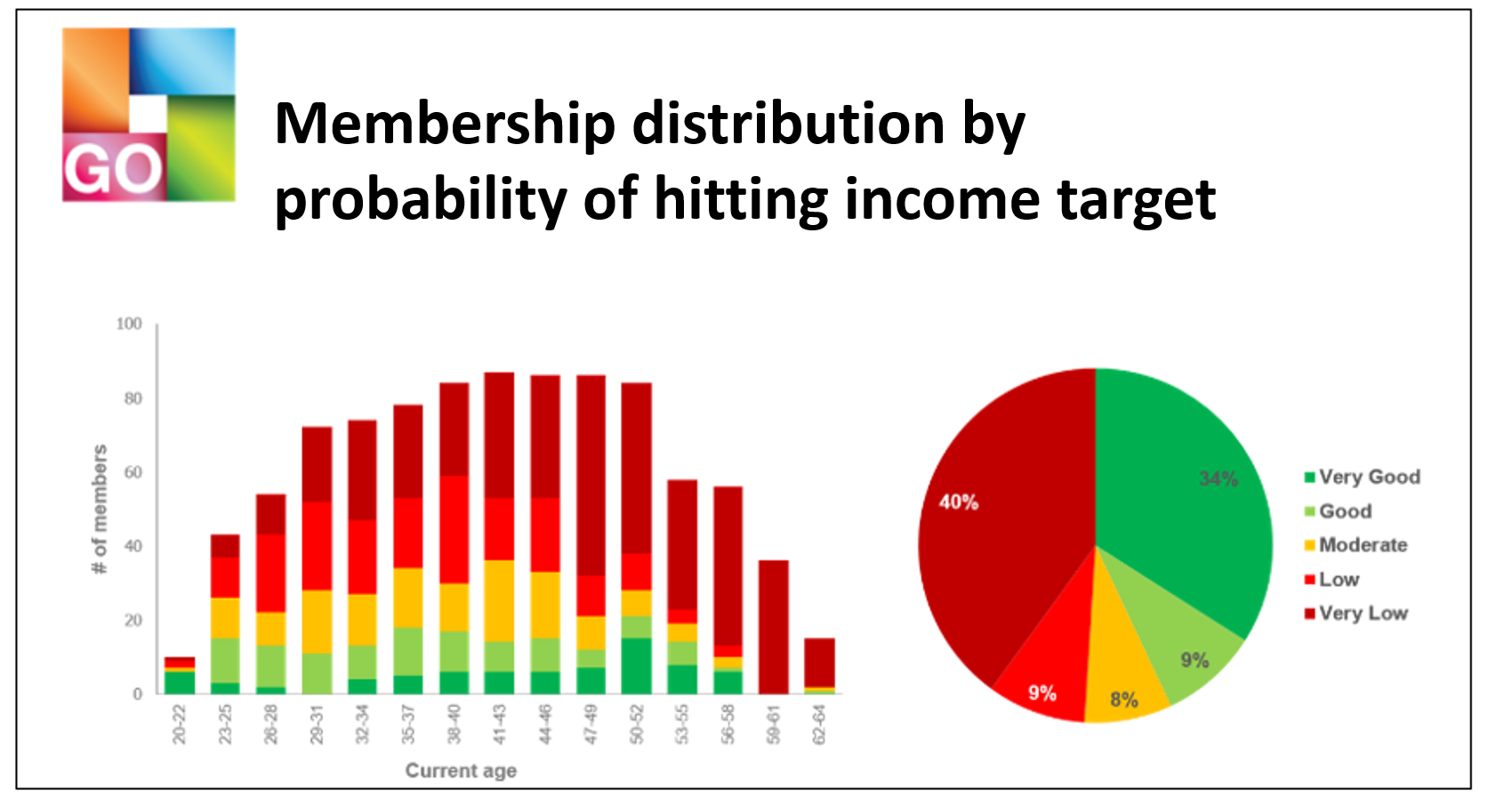 Retirement income adequacy is a growing concern for Canadians. It's more important than ever to understand what your plan delivers so you can make sure your members get what they need from it. Guided Outcomes™ provides the analytics to assess, strategize and implement solutions so your workforce can achieve their retirement goals. By marrying your existing HR information and data from your plan administrator, we use sophisticated analytics using an award-winning economic scenario generator to illustrate the likelihood of your plan members achieving their personal Living Standard Replacement Rate. Detailed analysis (by salary levels, tenure, age, or division) gives you the critical information you need to make strategic decisions about which actions can help close the gaps for plan members while achieving your organizational objectives.
You can learn more about how Guided Outcomes™ can help you understand how well your plan is preparing your workforce for retirement in the video below.
Let's Start a Conversation
How Can We Help?