Retirement readiness – how should employers help?
$756,000 is what your employees need to retire. How should employers help?
Your Workplace – Mar-Apr 2020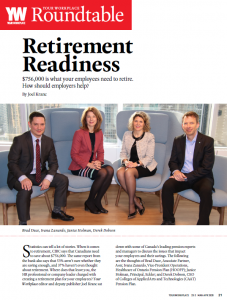 Statistics can tell a lot of stories. When it comes to retirement, CIBC says that Canadians need to save about $756,000. The same report from the bank also says that 53% aren't sure whether they are saving enough, and 37% haven't even thought about retirement. Where does that leave you, the HR professional or company leader charged with creating a retirement plan for your employees? Your Workplace editor and deputy publisher Joel Kranc sat down with some of Canada's leading pension experts and managers to discuss the issues that impact your employees and their savings. The following are the thoughts of Janice Holman, Principal, Eckler; Brad Duce, Associate Partner, Aon; Ivana Zanardo, Vice-President Operations, Healthcare of Ontario Pension Plan (HOOPP);  and Derek Dobson, CEO of Colleges of Applied Arts and Technologies (CAAT) Pension Plan.
Reproduced with permission of Your Workplace.
Copyright @ 2020 by 1427 509 Ontario Inc., ola Your Workplace; all rights reserved.
Eckler

News and Insights
Get Eckler insights straight to your inbox.