Growing stronger in Atlantic Canada!
Eckler welcomes senior director in Atlantic Canada
Eckler is pleased to welcome Thane MacKay to our growing Atlantic Canada consulting expertise.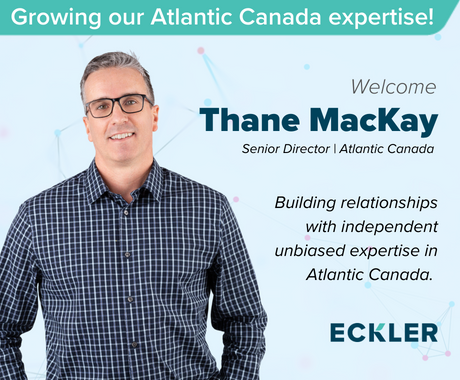 A native of Prince Edward Island and based in Fredericton, New Brunswick, Thane brings 25 years of experience in actuarial consulting, with expertise in workers' compensation programs. A qualified actuary, Thane has worked with most territorial/provincial workers' compensation boards (WCBs) in Canada to lead several funding sustainability reviews and pricing re-designs. As a seasoned veteran, he is routinely sought for his expertise and has supported numerous cabinets, review panels, and Boards of Directors on WCB legislative changes.
"We are delighted to welcome Thane to Eckler's growing roster of consulting expertise in Atlantic Canada," said Chris Brisbois, head of Eckler's largest pension and benefits consulting practice. "He brings a wealth of experience to support Canada's workers' compensation boards and our diverse client base across multiple business lines from coast to coast."
A message from Thane: "Throughout my career, my goal has always been to deliver practical consulting solutions and advice to help my clients. I am passionate about developing lasting relationships with my clients and colleagues, and I see these similar traits in Eckler's family of committed and highly skilled professionals."
Before joining Eckler, Thane was the Managing Partner in Atlantic Canada for another large consulting firm where he managed a diverse work group specializing in pension and investment consulting, pension administration and workers' compensation consulting.
Thane is a Fellow of the Canadian Institute of Actuaries (FCIA) and a Fellow of the Society of Actuaries (FSA). He currently serves as a Council Member for the Canadian Pension and Benefits Institute (CPBI) Atlantic Region and as a member of the Ontario WSIB's Actuarial Advisory Committee.
Connect with Thane here.
Welcome, Thane! Wishing you great success in your new role.
Eckler

News and Insights
Get Eckler insights straight to your inbox.