Eckler's investment practice is growing!
Welcomes senior investment executive to expand services in the Prairies
Eckler is pleased to welcome Emmanuel Petroulakis to its thriving investment consulting practice. Based in Winnipeg, Emmanuel will work throughout the Prairies engaging Eckler's Investment, Defined Contribution and Financial Wellness clients.
"We are delighted to have Emmanuel join our team to strengthen our presence in the Prairies, a priority growth region for us," said Jason Campbell, Eckler's Investment Consulting Practice Lead. "He brings a wealth of investment experience allowing us to broaden our client relationships across multiple business lines and offer investment consulting services from coast to coast."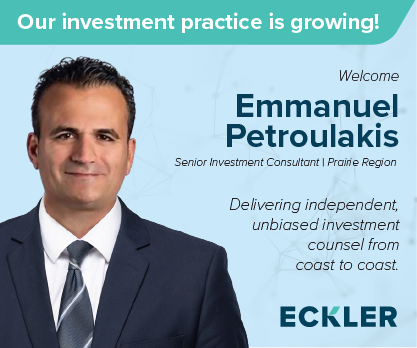 Emmanuel brings over 20 years of investment experience and a unique combination of executive roles in both institutional investment management and individual financial planning. His institutional experience includes supporting a wide range of organizations across all sectors including corporate, government and charitable organizations. His areas of expertise include investment governance and policy, investment manager selection and oversight and member financial wellness programs for both defined benefit and defined contribution pension plans.
"As a life-long Prairie resident and former Eckler client myself, I'm excited to join a firm with deep professional resources and a commitment to the local market," said Emmanuel about taking on this new challenge.
Prior to joining Eckler, Emmanuel served as Chief Investment Officer for a workers' compensation board, Vice President of Institutional Investment Counselling for a major Canadian insurer, and senior executive for a financial planning firm serving high net worth clients.
Emmanuel is a CFA Charterholder and Certified Financial Planner.
Connect with Emmanuel here.
Welcome, Emmanuel! Wishing you great success in your new role.
Eckler

News and Insights
Get Eckler insights straight to your inbox.