Eckler appoints new Managing Principal
Toronto, May 31, 2023 – Eckler Ltd., Canada's largest independent actuarial consulting firm today announced the appointment of Richard Brown, FCIA, FSA, CFA, as Managing Principal, effective immediately.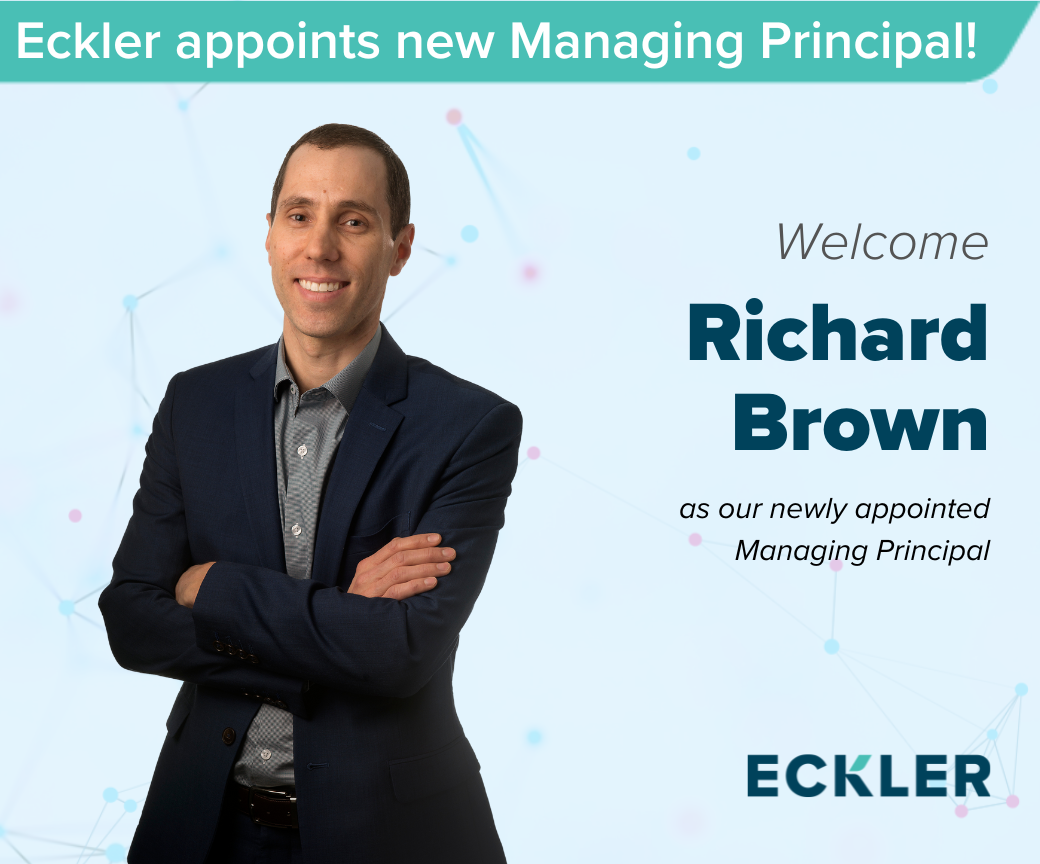 Brown takes over from Jill Wagman, FSA, FCIA, ICD.D, who led the firm for 11 years. Wagman is stepping down as Managing Principal to focus on full-time consulting across the country. She remains as Chair of the Board of Directors.
Joining Eckler in 2013, Brown brings a solid track record of leadership to the role having spent the last eight years as Chief Operating Officer of the Canadian operations of Club Vita, an independent longevity data analytics company supporting pension plans and their advisors, insurers, reinsurers, and other stakeholders of longevity risk. Brown returns to Eckler as Managing Principal after leading the development of Club Vita Canada from start-up to a market leader in longevity analytics, and through the successful consolidation of its Canadian, UK and US businesses.
Brown is a pension actuary with specialized risk management expertise in areas including asset-liability and capital market modelling, longevity analysis and research, data analytics and pension risk transfer. He has over 20 years of experience helping clients understand, quantify and manage risk, spanning defined benefit and defined contribution pension plans as well as insurers and reinsurers. A graduate of the University of Waterloo, Brown is a Fellow of both the Canadian Institute of Actuaries and the Society of Actuaries. He is also a CFA® charterholder.
"It's been a profound honour to lead this firm of outstanding professionals," said Wagman. "I am incredibly proud of the work we did to define our purpose so that every single person has a strong sense of why we do what we do. I know that purpose will continue to be our guiding beacon under Richard's leadership."
Brown is committed to building on the nearly 100-year legacy he has been handed.
"Eckler has a long and successful history. We would not have withstood the test of time and market changes if we did not have a winning formula. I look forward to building on the solid foundation built by those who came before me. By leveraging our talented and passionate people to evolve our business, we can continue to thrive for the long term in a remarkably different environment than when Sam Eckler founded the firm," said Brown.
A strong believer in Eckler's award-winning corporate culture and purpose, Brown is committed to fostering a workplace that embraces everyone and fully supports Eckler's employee-led programs related to Diversity, Equity and Inclusion.
In addition to his Managing Principal role, Brown will also provide consulting services to a range of clients, drawing on his diverse expertise.
About Eckler Ltd.

Eckler is Canada's largest independent actuarial consulting firm. We are driven every day by our purpose to care and to do right by people so that together we can achieve a brighter, more secure future. That purpose is woven into the fabric of the organization and is just one of the reasons that Eckler has been recognized, more than once, as one of Canada's Most Admired Corporate Cultures by Waterstone Human Capital. The most recent award came in 2021, with re-certification in 2022.
Based in Canada and the Caribbean, we're a team of committed and highly skilled professionals in the areas of insurance, pension, retirement, compensation, financial wellness, investment, group benefits, change management and communication, and technology consulting. Owned and operated by active Principals, the company has earned a reputation for service continuity and high professional standards. Eckler is a founding member of Abelica Global – an international alliance of independent actuarial and consulting firms operating in over 20 countries. Visit eckler.ca to learn more.
For more information on Richard Brown, click here.
For media inquiries:
Nancy Lee Martin, Director, Corporate Marketing and Communications
Eckler

News and Insights
Get Eckler insights straight to your inbox.